Single – Sober Up
Sober up was at first a demo song made by Nicklas Stenemo, intended for Kite, which then got picked up by Lizette instead, who took it up on hirself to complete it. The tentative guide vocals of the demo hinted a theme of ambivalent love experienced on a night out which set Lizette on the path of finalizing the narrative. The theme of the lyrics lead to the creation of a very sexy music video based around a walk of shame with events at a fetish club flashing through the camera lens. The video was created by Giannina Panfichi and Lizettes's lover is played by Leffe Crumlove aka. Felicia Kronlöf.
This last year has been a great success for Lizette, and the streak really began last year in November when Lizette released the first-single Rest. It made an immediate and successful impact. The video got 18.000 views in just one week and the song was awarded a spot in both the respective top songs of 2016 lists of Zero Magazine and Popmuzik. It was also praised by Fredrik Strage who wrote Last week, Leigh Bowery apparently came down from the skies and gave a breast-themed jacket to the new shooting star Lizette Lizette. Respect.
There after came the second single Easy Street which also managed to impress and was subsequently picked up by the British music-blogger Pop Justice and by P5. Then finally came the awaited album Queerbody, which according to BON Magazine, Aftonbladet music and Zero Magazine managed to live up to expectations.
In May, Lizette's wishes came true when ze had the privilege of sharing the evening with Danish band First Hate at Obaren in Stockholm.
The release-party is held the 1st of June at Kåken, Stockholm.
Album – Queerbody
The oldest songs, "Freak" and "Scapegoat", were created during Lizette's transformation period in which she went from eurodisco and rave to the current more synth-based sound. "Freak" is a scream of frustration over constantly feeling misunderstood and "wrong", while "Scapegoat" is a soundtrack of acceptance to that exact same feeling and state of being. In both songs, one can hear Lizette's earlier influences.
The song "Slow" was the only track from the scrapped album that survived and came to work as a compass for finding the new direction of Lizette's sound. "All you stole" is the most personal song on the record and it deals with an enormous betrayal that happened to Lizette some years ago. It was also this song which was the first one to capture Nicklas Stenemo's interest and lead to their collaboration. The last song to be placed on the album was "Future" which at first was an old beat- track created by the other half of Kite, Christian Berg.
The two remaining songs "Rest" and "Easy street" were released as singles and the first single, "Rest", made an immediate and successful impact and was also praised by Fredrik Strage, among others, who wrote "Last week, Leigh Bowery apparently came down from the skies and gave a breast themed jacket to the new shooting star Lizette Lizette. Respect". The second single, "Easy Street", also managed to impress and was subsequently picked up by the British music-blogger Pop Justice which helped to give it a wider broadcast and spreading.
The release party is held at Taverna Brillo 18/1.
Single – Easy Street
6th of January 2017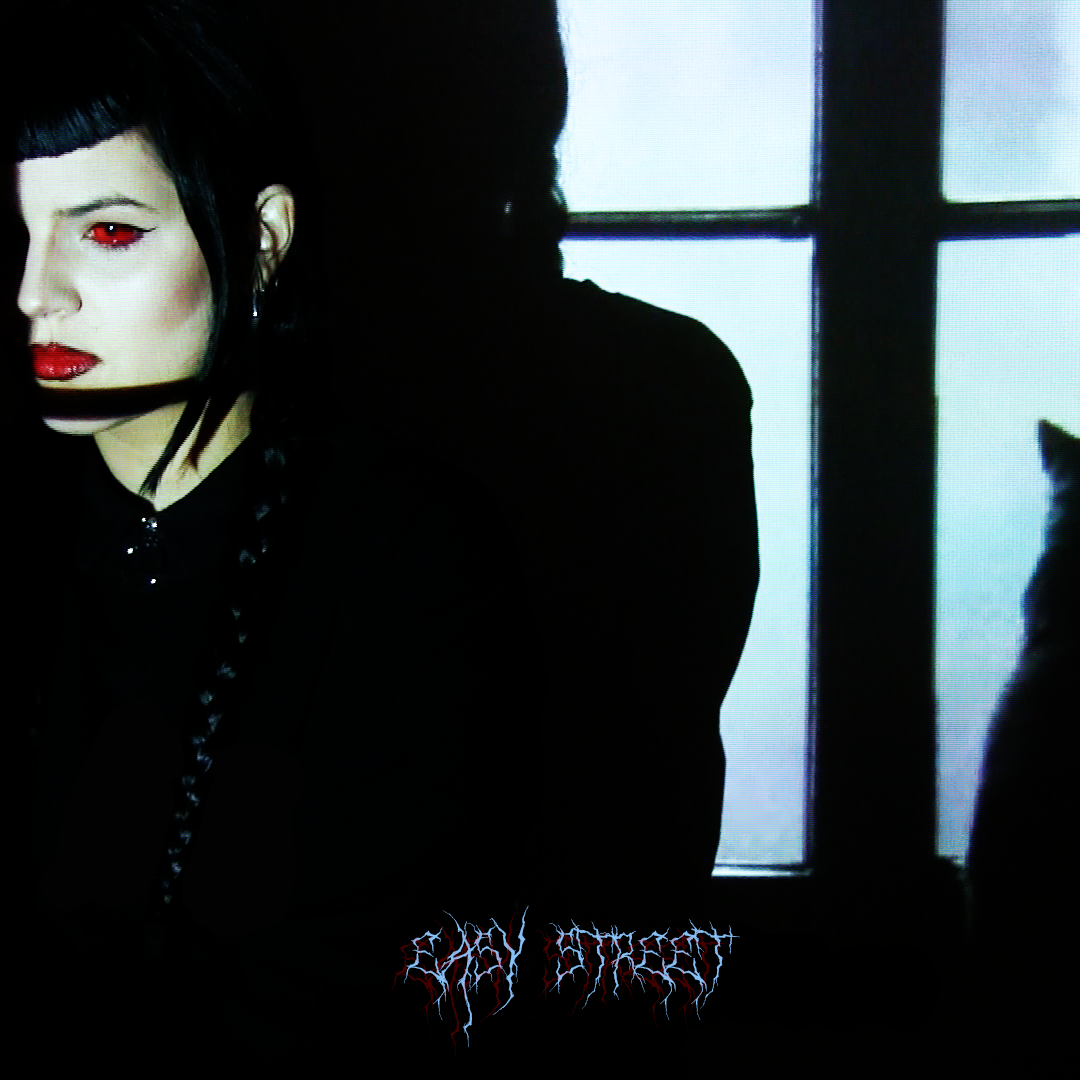 The song Easy street was from the beginning just a forgotten demo that laid neglected in Kite-singer Nicklas Stenemo's old dusty hard drive.
By a lucky chance Lizette got to hear it and became infatuated with it at once and fortunately received a carte blanche to make it hirs own.
At the time when writing the lyrics for Easy street, Lizette was frustrated with hirs state of affairs. Years of failures that had piled higher was tearing like never before on the result driven and competitive Lizette. Therefore there was nothing else to do than to write a song about the brutal bitterness and envy hir felt for those who never seemed to have needed to struggle for anything in life.
In the video of Easy street, the ugly faces of bitterness and jealousy are represented as the small frightened feelings they really are . Besides Lizette, also appearing in the video is two of the most fabulous club-kids in Stockholm, Leffe Crumlove and Butcher Queen.
Last year in November, Lizette released the first single, Rest, of the upcoming album Queerbody. Rest made an immediate and successful impact. The video got 18.000 views in just one week and the song were named in both the respective "top songs of 2016" lists of Zero Magazine and Popmuzik. It was also praised by Fredrik Strage who wrote "Last week, Leigh Bowery apparently came down from the skies and gave a breast-themed jacket to the new shooting star Lizette Lizette. Respect"
The album Queerbody is released the 18th of January and the release-party is held at Taverna Brillo.
Single – Rest feat. Nicklas Stenemo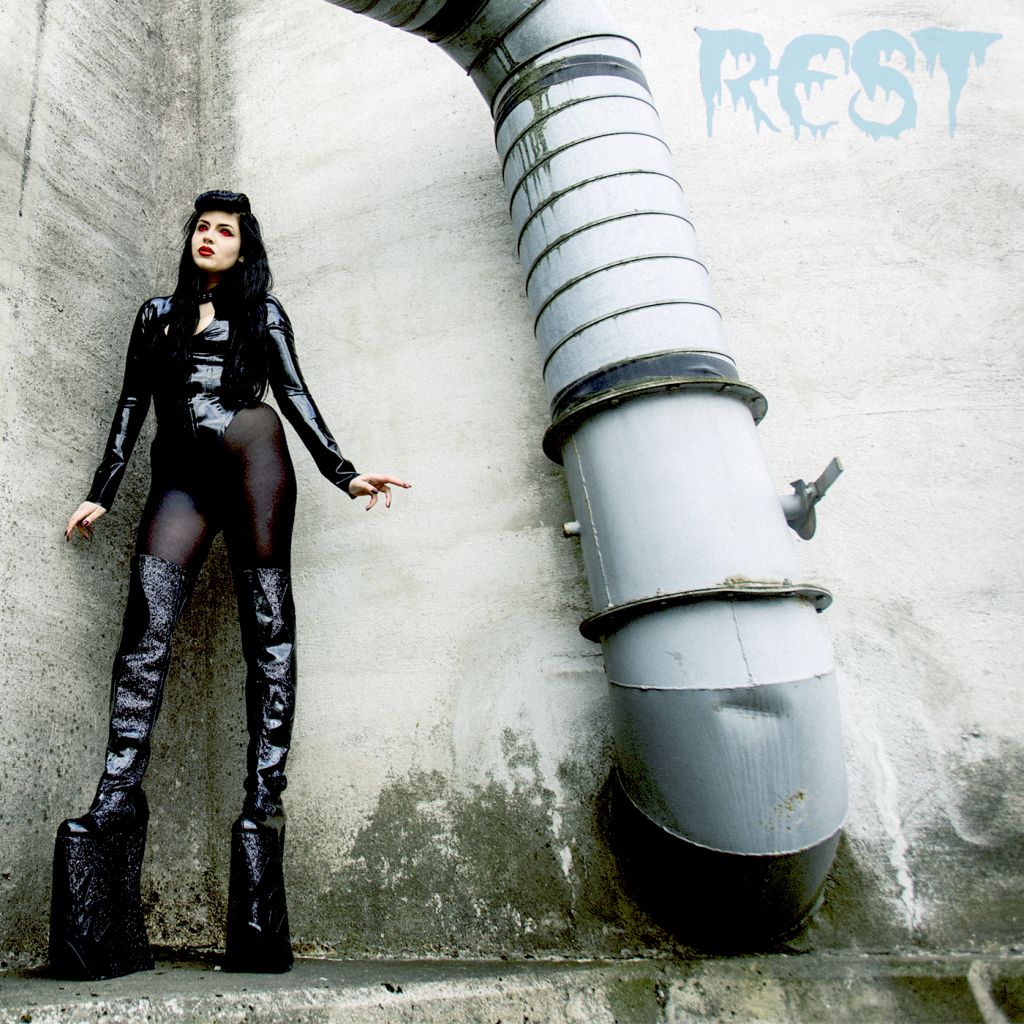 November 21th 2016
Lizette has since her childhood meditated on the mysteries of life and has found a belief in the occult. The song "Rest" is a surrender to life and its path of destiny, something hir decided to do after realizing that some things are not meant to be regardless of how hard one pushes and tries. Sometimes, you have to loosen your control, lean back and trust that life will take you where you need to be.
"Rest" is the first single from the upcoming debut album, "Queerbody", which has been co- produced by Nicklas Stenemo (Kite, Nicole Sabouné). In this song, he also contributes with his distinctive voice. Inspired by old New Beat-acts from Belgium like In-D and Split Second, they've created a sound of their own that they've chosen to call "queerbody". The sound has its roots in the synth-genre but it is at the same time a statement by Lizette Lizette against it, criticizing the traditional synth-genre for being conservative and male-dominated. The sound is created when Lizette Lizette combines the traditional synth-genre with pop-melodies representing a queer-perspective.
The debut album is released the 18th of January and the release party takes place at Taverna Brillo in Stockholm.
Single – Fuck it up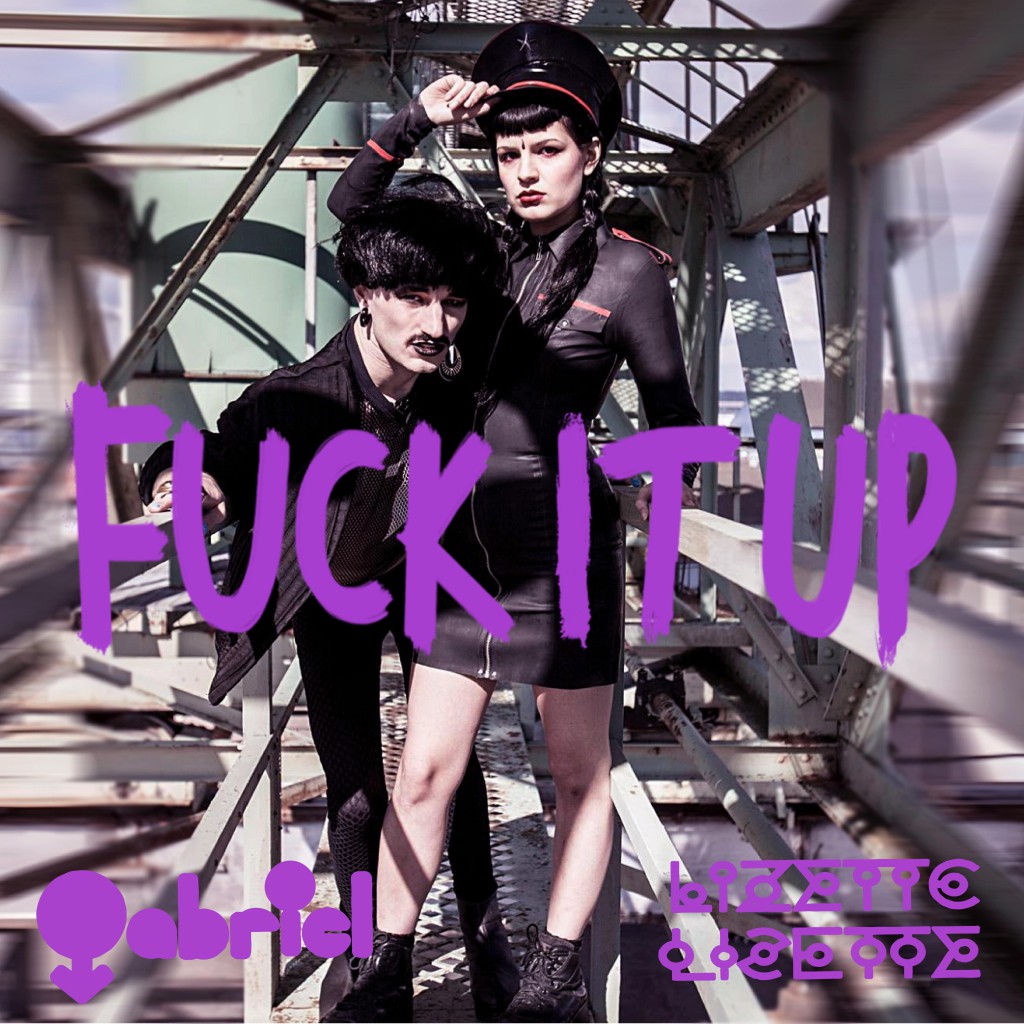 September 17th 2015
Artists and music-producers Lizette and Gabriel decided on a cold November night to collaborate musically. The creativity was flowing and out of it came a new song and a new music video to go with it. This song, Fuck It Up, communicates a frustration over the firm grip which capitalism has over society. In the music-video we see Gabriel playing a shopaholic who's just been dumped by a providing sugar-daddy which results in catastrophic consequences. Lizette's character is on the other hand tired of "flippin' burgers" and decides that enough is enough. As they both now stand empty handed without means to live they decide to take drastic measures and collaborate. Gabriel is studying at Musikmakarna and has after a year there already managed to get involved in a new ambitious project as a member of Australian based duo Peta and the Wolves. He has previously released the EP "Elements" and has also written and produced many songs with fellow songwriters. Lizette has newly returned from the US after a couple of week's touring while having before that released a handful of singles, a critically well received EP and the much talked-about music-video "Freak". Having also opened to the British rapper Example, the experience gave some inspiration to rap in the new song. Fuck It Up combines Lizette's pulsating basslines and critical viewpoints on society with Gabriel's atmospheric pads and queer lyrics.
Single – Freak

June 16th 2014
Having previously released the single "Wheel of fortune", which aired on several radio stations across Britain, and the debut-ep
"Raveland", which was lauded by British critics, the artist and producer Lizette Lizette is now unleashing a new single called
"Freak".
This release does not only feature a brand new song with several remixes but also a well invested music video!
While living in London the artist experienced many sleepless nights, many of which the artist spent watching old reruns of Ricki Lake and Jenny Jones.
It was during one of these nights that the first seeds of the whole project sprung up. A vision of a music video set within a talk-show, and conveniently there were already one of Lizette's (unrecorded?) songs that fit perfectly within the concept.
The song "Freak" is a three minute long outburst of irony and sarcasm which was written as early as 2010 as a result of the frustration which Lizette felt over always being defined as weird and abnormal.
In spite of having a complete vision of how the music video would look like, Lizette had some worries that the idea would be too difficult to make real, but within a few months, Lizette got in contact with the video director Emerson Berglund and the vision actually began to take shape.
Starring as the talk-show host we find comedian Johan Wahlström. In the video, his straight-man "Springeresque" host acts as a sharp contrast to the talk-show guests; a colorful ensemble of club-kids lead by none other than the misunderstood "freak" in question, Lizette Lizette!
EP – Raveland
March 3rd 2013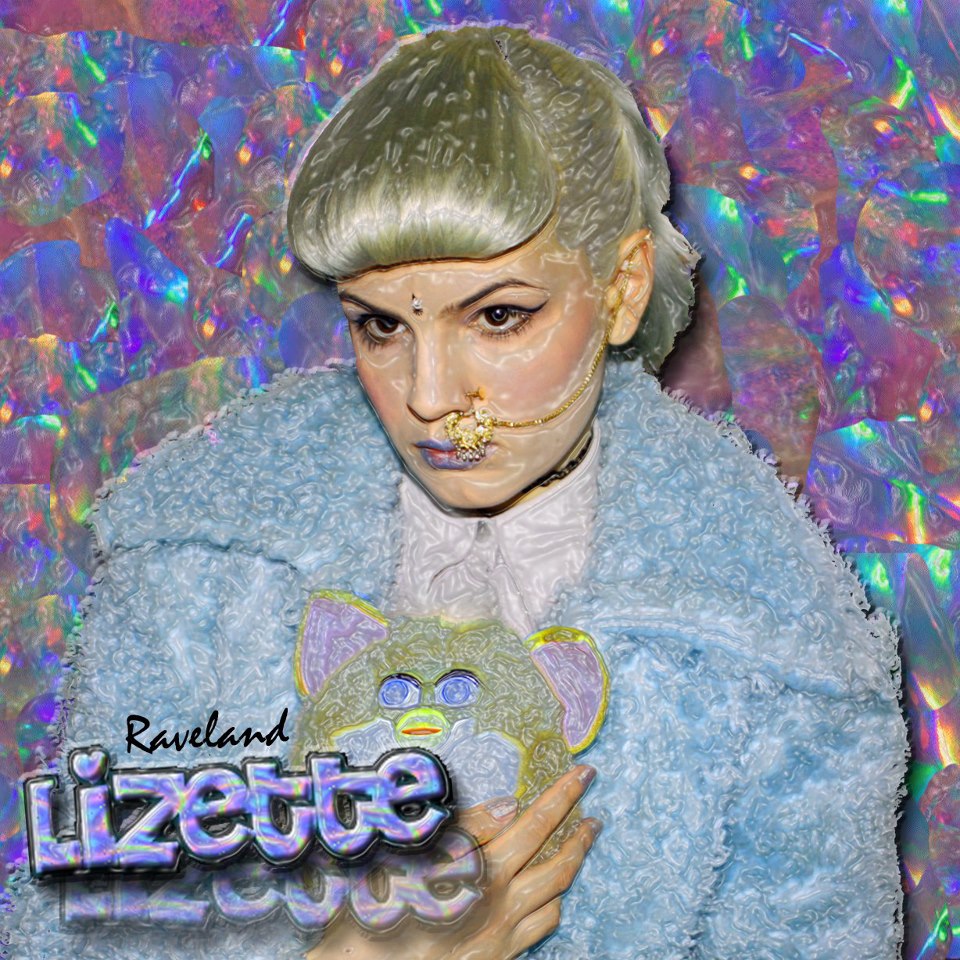 Following the success of her first single 'Wheel of Fortune', Swedish dance-pop sensation Lizette Lizette is readying the release of the much anticipated EP 'Raveland'.
A self-described 'meta-ironic plastic rebel', Lizette is questioning many of the norms of modern day society through her music. The five-track 'Raveland' EP, which includes the aforementioned single, does just this. Continuing Lizette's intriguing musical journey, the EP combines the best of influential old school techno, acid house, electronica and pop. A multi-talented artist, Lizette produces and sings all her own material, as well as playing regular DJ gigs. Her flourishing career has already seen her support Example in Stockholm, as part of his European Tour, and be a part of Andy A's music project 'The New Heaven Dieppe'. Creating her own musical niche, Lizette's fun sound is grounded in her spiritual view and distinctly individual approach to life.
'New Life (My Sweet Escape)' continues in the vein of lead single 'Wheel of Fortune'. It is richly melodic, upbeat and dance-friendly piece. The infectious chorus rings out with the line 'my sweet escape, my sweet escape to a new life'. 'Keep Walking Alone' takes the tempo down slightly, highlighting Lizette's production skills in her restraint and sound choice. Her distant vocals give the track a melancholic edge. Title track 'Raveland' is a similarly club focussed track which is sure to be a hit. Elsewhere, 'Universe' is perhaps the most ambitious track on the EP. The eerie song opening moves quickly into a pulsing bass line, allowing
Lizette's vocals to shine above. Her cries of 'universe' mark the drop, whereby a slower, more complex beat is introduced. Evoking a range of Lizettes influences such as Leila K, Lady Miss Kier (Deee-Lite) and Pandora, Lizette's music sits somewhere between Die Antwood, Fever Ray and the rave era.
Single – Wheel Of Fortune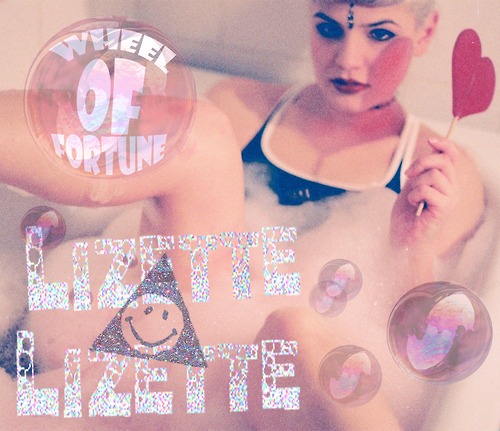 November 13th 2012
'Inspired by old school techno, electronica and eurodance….with a very deep and spiritual message'
Introducing Swedish born artist, singer, producer and DJ Lizette with the release of her debut single 'Wheel of Fortune'. Thi
s eclectic mix and vibrant sounds make Lizette Lizette the newest and most fashionable dance act about to hit the stage…so London watch out!!
The stunning singer Lizette has been producing and writing all her own material since graduating. 'I'm designing my own b
and and my own music'. She describes herself as incredibly spiritual and spent a long time working to develop her own unique sound.
'Wheel of Fortune' is inspired by old school techno, electronica, acid house and eurodance, mixed together with very deep and spiritual messages. Her vision for the single is to inspire people to follow their dreams and take their chances while they can, instead of following the crowd and living their lives solely to please others.
Before becoming a solo artist, Lizette was the singer in Andy A's new music project 'The New Heaven Dieppe'. After learning a lot from the music industry she decided to pursue her solo career. During this time people started to request her to DJ, and she is now known as 'Stockholm's 90's DJ.
Lizette's first performance as a solo artist in her home town of Stockholm was supporting British artist/rapper Example as part of his European Tour. After that she continued to play all over Stockholm's best clubs, and by chance she even got to perform in front of Lenny Kravitz at the club F12. She is also close friends and neighbours with Swedish band Niki & the Dove who are hugely supportive of Lizettes musical talents.